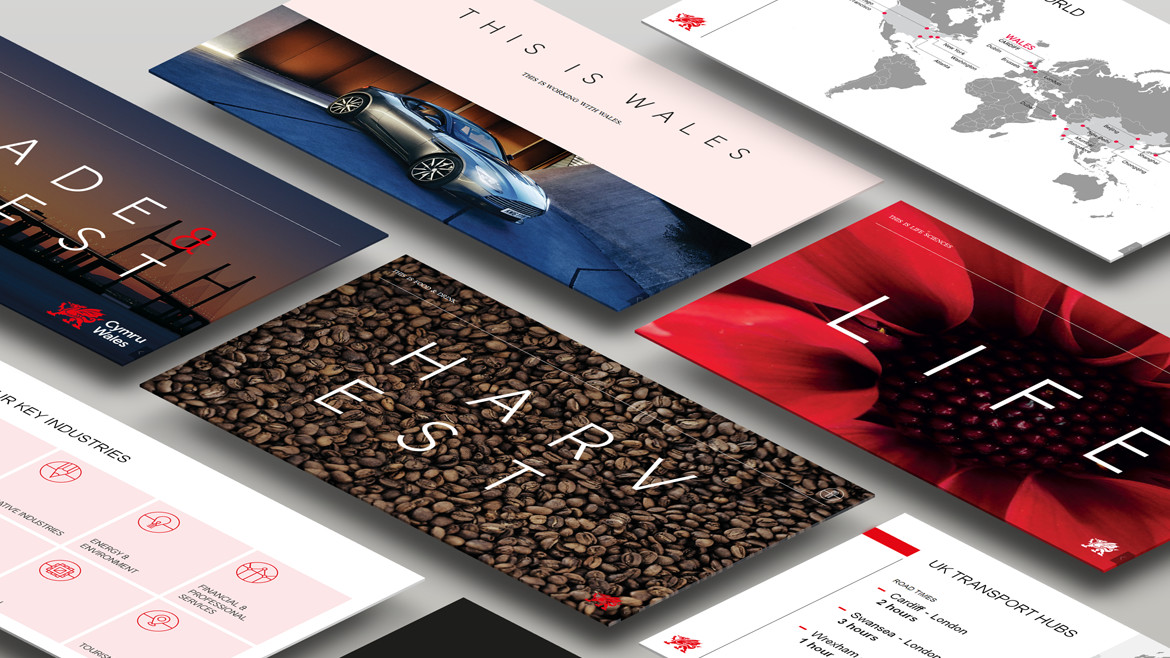 Working with Welsh Government, S8080 were commissioned to develop a suite of digital presentation templates, focused on building coherent brand awareness and confidence in Wales as a global business destination.
Our user experience and visual design teams worked alongside Trade and Invest Wales to deliver a scalable tool that equipped presenters with an engaging visual platform when pitching to international business owners.
The extensive suite of slide templates were developed for PowerPoint 2010 (chosen from a researched list of around 20 or so creative technology solutions), allowing ease of use for all user competency levels and minimising formatting issues across multiple device types and departments within Welsh Government.  
---
What we did to help
Stakeholder sessions - We held a series of short discovery sessions with the business development teams focusing on audience needs, presenter needs, required sector segmentation and scenarios of use.
Storyboarding - Developing low-fidelity working prototypes, testing and analysis of user journeys, information structure, animations, interactions and general functionality.
Visual design - Including content concepts and Hi-Fi design proposals, testing real-world placement of the brand toolkit. 
Modular PowerPoint Presentation templates - Based on the storyboards and integrating the signed off creative, we built the suite of templates covering maps, data, photography, animation and optimised video content.
Training sessions - We held a series of half day training sessions to help the business team with any aspects of editing the PowerPoint files. This process allowed us to remove any barriers as early as possible so the team could use the tool immediately after release.
On-going support - A project is rarely finished after the initial release - it's during the first few weeks and months that we're able to evaluate the product, analysing the elements that work well and refining those that don't. As part of this project, we allocated chunks of retained support budget which allowed the business team to ask our designers for help to refine or add templates types.
---
Similar projects
---
Take a look at more of our work.