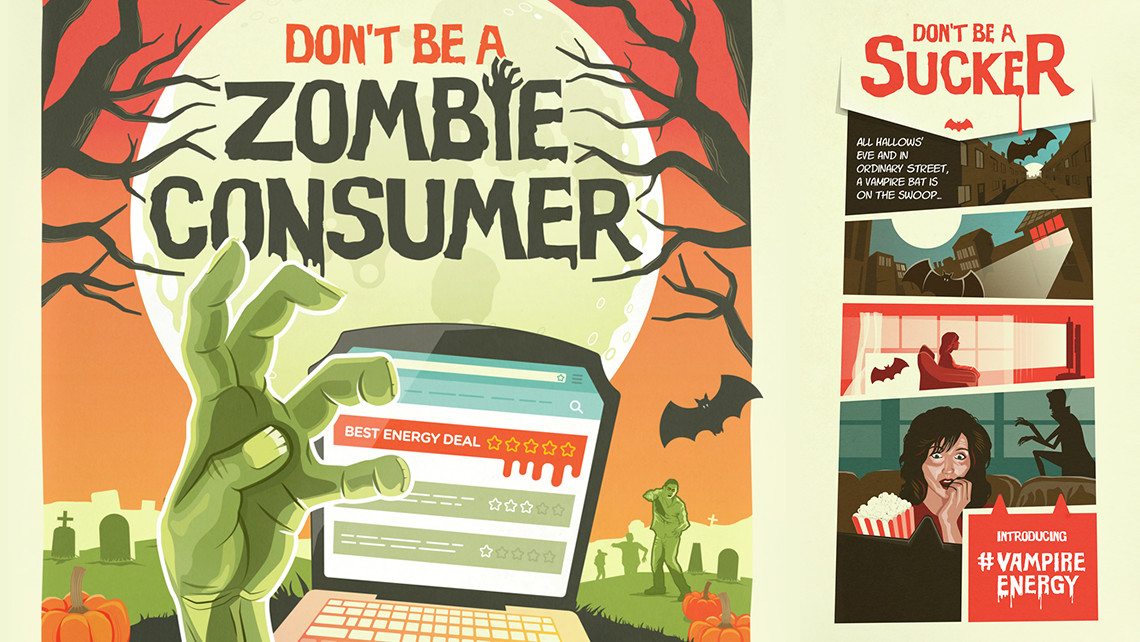 Our creative team worked closely with The Department of Energy & Climate Change (DECC) to deliver a series of timely viral campaigns inspired by the Halloween season celebrations.
DECC (Now The Department for Business, Energy & Industrial Strategy) needed unique, informative and humorous visual content that could drive traffic and increase social engagement for the Facebook 'Warmthiswinter' page and the Twitter #VampireEnergy campaigns for household energy awareness.
We've produced numerous infographics for DECC, but this brief was a little different - not just a collection of stats but something that also had a humorous narrative. A narrative which took advantage of Halloween and featured an energy conscious vampire that becomes increasingly aware of saving energy and money.
---
We produced 2 infographics for the Vampire Energy campaign:
Switch it off - Focused on unplugging devices when on standby which could result in an annual saving of £86.
Check your settings - Focused on a series of setting changes that could result in savings of up to £150 annually for an average household. Simple changes such as switching to the 'ECO CYCLE' on the washing machine could make a huge difference.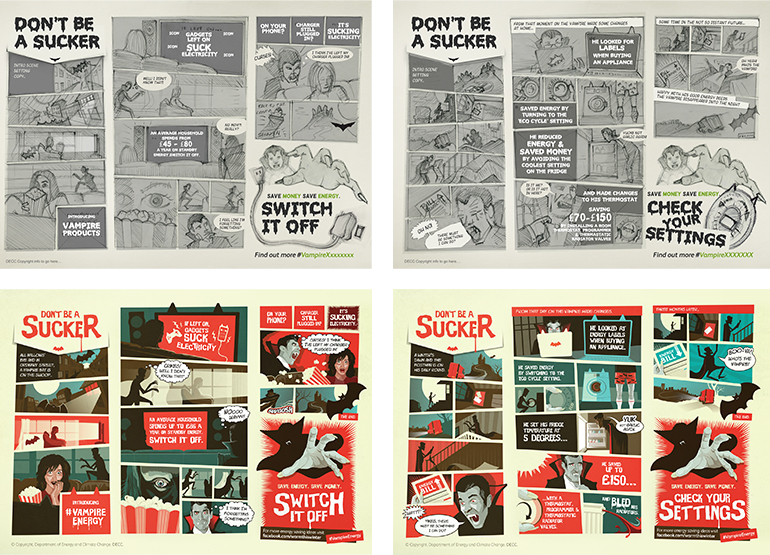 ---
The Stats
The campaign was well received with 72 retweets for an initial Twitter post and mentions of the campaign on websites such as moneyaware.co.uk and moneysavingexpert.com.
The 'Warm This Winter' Facebook page increased its like count from 80 likes to over 11.000 likes in a matter of days.
On the morning of the release of the 'Switch it off' Facebook video ad (based on the Infographic artwork), 26k views were received, over 130 likes and over 50 shares.
The campaign received 2.4million impressions in the first week and was reported to have received 6 million in the second week.
And to top it all off the official Twitter channel for Prime Minister David Cameron's office, based at 10 Downing Street tweeted the #VampireEnergy campaign.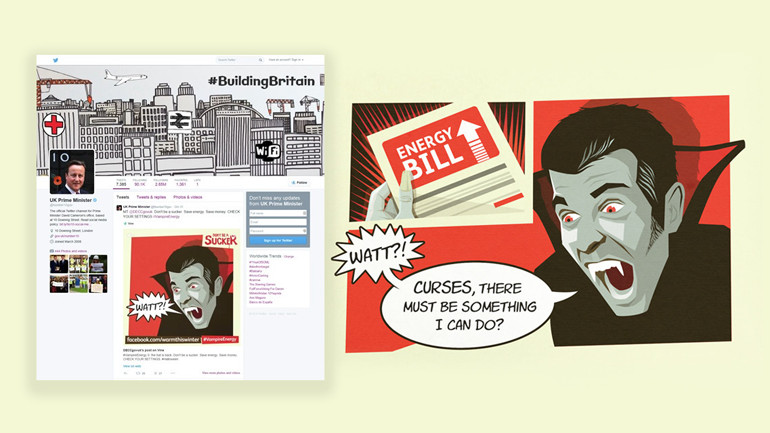 Following the success of the 'Vampire Energy' campaign, we were asked to produce additional Halloween assets that supported a consumer awareness initiative titled 'Don't be a Zombie Consumer' which received a rather spooktacular online response.
---
Take a look at more of our work.